our sponsors
Your Advertisement could be here! Contact Us today!
featured
"Mpesa"
» admin, 09/10/10 14:06:22
Start local, then Africa, then the world. That's the mantra app developers in Africa should be repeating to themselves as they build their game changing tools. That's what Agosta Liko and his team at Verviant are doing with their new web and mobile payment platform: PesaPal.

PesaPal is an eCommerce platform focused on Kenya. It's built to work seamlessly with Kenya's main mobile payment services; Zain's Zap with approximately 300,000 users and Safaricom's MPesa with around 2 million users.
The Need
Most Kenyans do not use credit cards, many are unbanked, and there is no consumer-oriented payment system in the country. PesaPal is aimed squarely at these wananchi (ordinary Kenyans). It's a way for local vendors to offer digital payment for goods in a systematic way that they can track, and in a format that Kenyans have and are familiar with: mobile phone transactions.
Think of PesaPal as akin to the services offered by PayPal and Google Checkout to businesses – except that it actually works in Africa. (long rant coming if I continue down that thought path…).
Phase 1 (this release) is about vendors being able to receive money, think mCommerce, ticketing, education, online stores, etc.
Phase 2 (time TBD) is about paying money, which would include things like payroll, payday loans, micro-loans, etc.
How it Works
A prototypical business might be someone who manages a school or a vendor who wants to sell products via a website or billboard. They would come and sign up with PesaPal and get approved mobile phone payments set up using their own Zap or Mpesa account.
At this point the business is up and running and can receive payments.
If the business has a website, there are a few more options. They can pay a one-time fee of 4,000/= ($50) and get a pre-built plugin for common website content management systems like Joomla or osCommerce. The more advanced implementers can access and use the exposed web services (API) that PesaPal has built to allow for merchant and buyer verification or transaction processing.
A good example of this is Totally Toto, a website that sells children's clothes and delivers them locally. Their only option in the past was cash-on-delivery, with PesaPal they are now also accepting, and tracking, payment in advance.

The business model for PesaPal is a transactional one, where they make approximately 15/= ($.20) per transaction that uses their system. I'm in favor of this because it gives PesaPal a great incentive to grow their user base and provide a service that truly helps vendors using their tool.
Further revenue opportunities for the PesaPal team include customized product integration, web site design and licensing of more advanced API functions by larger organizations.
Out of the box in phase 1, users will have:
Immediate receipting and confirmation
Transaction details stored for 7 years
Vetted merchants/vendors
Monitoring for KYC (Know Your Customer) and AMC (Anti-money Laundering) to protect vendors
Safe and secure hosting within Kenya, the same place that Swift (money transfers) hosts theirs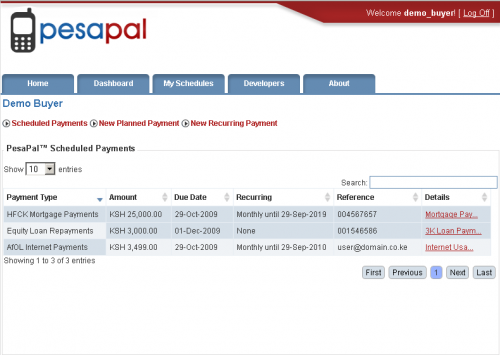 The People and the Business
Agosta Liko is the Founder of PesaPal. He brings to the table a wealth of experience working in the US banking sector, Insurance field and Consulting. Agosta has worked on Wire Transfer, Loans Origination and Anti Money Laundering Systems for First Citizens Bancshares in USA. Paul Mungai, PesaPal's Chief Software Engineer has over 5 years experience with Verviant Consulting Services where he worked on a wide array of ecommerce outsourcing projects. Onesmus Kamau Kagwanja, PesaPal's Chief Technology Officer has been building software in East Africa for years, creating enterprise-level applications for some of the larger insurance companies in the region.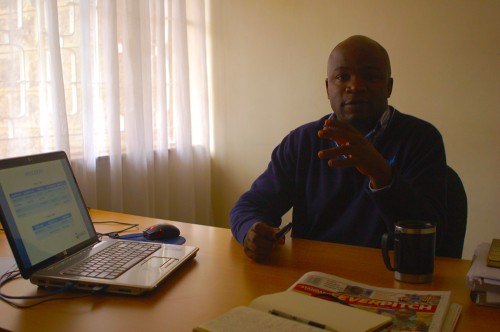 This background gives the seasoned team a particular edge when it comes to doing this work in Kenya. It has also helped them to bootstrap the venture, to build the application, launch it and keep them running through next year. The need and the ability to raise funds locally is a big deal in and of itself, and it's a big mark in PesaPal's favor that they've been able to pull this off.
It takes more than just pushing the "go" button on a website to make a business take off. It also takes deep pockets to launch a country-wide marketing campaign, a necessary expense for consumer products. Look for a major billboard, radio and web push by their team starting in October.